Ezy Tube Fabric Tension Display Sets (Fabric Portable Displays)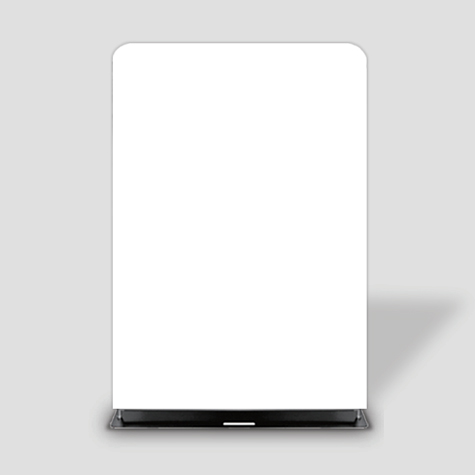 Looking for a portable indoor display that stands out? Our Ezy Tube Fabric Tension Displays are light weight, easy to assemble with their lightweight aluminium snap fastener frame, and eye catching with their wrinkle free nature. S, M and L ezy tubes include a heavy duty solid steel base whereas our 3 & 6m displays have feet for stability.
JUST ADDED: Our POS Ezy Tube (1500x1500mm) is the perfect 'Shopping Centre Approved' pop up signage option.

Made of a 230gsm knitted polyester they are printed using dye-sublimation, wrinkle free and machine washable making them the perfect portable companion. Padded carry bag included!

Standard EDD: 10 working days from 12pm cut off

Assembled Size: (WxH)
POS: 1500 x 1500mm
Small: 915 x 2290mm
Medium: 1220 x 2290mm
Large: 1500 x 2290mm
3m Display Wall: 3000 x 2260mm
6m Display Wall: 6000 x 2260mm

*Please note - Our artwork dimensions differ from the frame sizes above. This is to allow the fabric to slip over the frame with ease. Please use our design templates when creating artwork.
Size
Quantity
Price
Ezy Tube Small 920
1
$ 336.60
2
$ 584.10
3
$ 864.60
4
$ 1,128.60
5
$ 1,392.60
View More
Size
Quantity
Price
Ezy Tube Small 920
1
$ 402.60
2
$ 699.60
3
$ 1,046.10
4
$ 1,359.60
5
$ 1,689.60
View More
Download free templates to assist you in creating your artwork.
| | | |
| --- | --- | --- |
| Ezy Tube Small 920 | | |
| Ezy Tube Medium 1220 | | |
| Ezy Tube Large 1520 | | |
| Ezy Tube 3m Display | | |
| Ezy Tube 6m Display | | |
| Ezy Tube POS | | |